You can't 'fix' yourself once and for all; you have to manage yourself daily.
Radical candour, Kim Scott
This post is part of the 2017 A-Z Challenge. Woot!
Alright! We are three letters into the alphabet already, the sun is shining (it was when I drafted this post anyway), I have an enormous pot of pea soup simmering on the stove behind me… so what better time to talk about CONSUMPTION.
I have credit card debt. It's not something I like. I have this whole plan to pay it off by the end of July. As such, I'm setting myself another April challenge (alongside blogging everyday). Namely a NO SPEND challenge.
Yes, I am buying groceries. But no take-away, no new books, no clothes, no random stuff for the house, no flowers, no over-priced cups of coffee. It means I need to plan more, think more, and oh… pay attention.
We live in a culture saturated with stuff. I do actually enjoy spending money – I love travel, I love eating out, I love new experiences. But, for April, I am going to focus on what's free.
The #instagram life – in pursuit of perfection
I have a bit of an obsession with self-improvement, and with self-perfecting type books. I don't watch a lot of TV, and I have an ad-blocker on my browser, so I don't see many adverts. But I do go on instagram, I do look at the carefully curated perfect vignette, I do read 'lifestyle' blogs. Yeah, I am subscribed to Goop – and only partly ironically. I look at tours on Apartment Therapy. I crave the stylish, simple, super-expensive and self-described 'minimalist' chic.
I bought a magazine about simple living the other day, to read in a coffee shop. It was stuffed with adverts. Adverts for cute, eco-friendly, fair-trade stuff that was probably woven out of toxin-free hemp.
I want the vitamix blender, the white linens, the single vase of flowers.
I want the goddamn bullet-journal.
I want to be a different person. You know. The person who has it sorted. The person who is effortless, light, breezy and flowing. The person who only bought one thing, but that one thing was perfect.
I have yet to buy a perfect thing. I try for an organised, clean, #nofilter life, but the truth is, my whites keep going grey after I wash them a couple of times, I spilled marmalade on my floor the other day, and I killed the potted herbs I bought within about a week of buying them.
That went a bit off-piste. However, the core holds. A month without consuming extra in an effort to seek perfection that doesn't exist. A month of enjoying what I already have. And, hopefully, a chunk of change to apply to the credit card debt.
This post is part of the 2017 A-Z Challenge. Woot! 
I've been thinking a lot about this blog, and about my life in general. Last year was a difficult one for me: I almost certainly slipped into depression, although I did not get formally diagnosed. Still, I spent a lot of time staring at the wall with my thoughts circling the drain.
Thankfully, a mix of counselling, exercise, self-reflection, omega-3 supplements, yoga and meditation has pulled me out of it.
So what is this about, and what does it have to do with the A-Z challenge?
When I first started this blog, I did so with an A-Z challenge. The posts were short and perhaps perfunctionary, and I didn't gain any long-term readers from it (I don't have any long-term readers!)
I've been blogging in one form or another for over fifteen years. But in recent years I've moved away from creating, writing, exploring, and toward consuming. I lost the art of long-form journal writing in favour of short Facebook updates. Facebook updates that were, at best, a highly edited, extremely bland version of me that was both Safe for Work and Safe for Extended Family.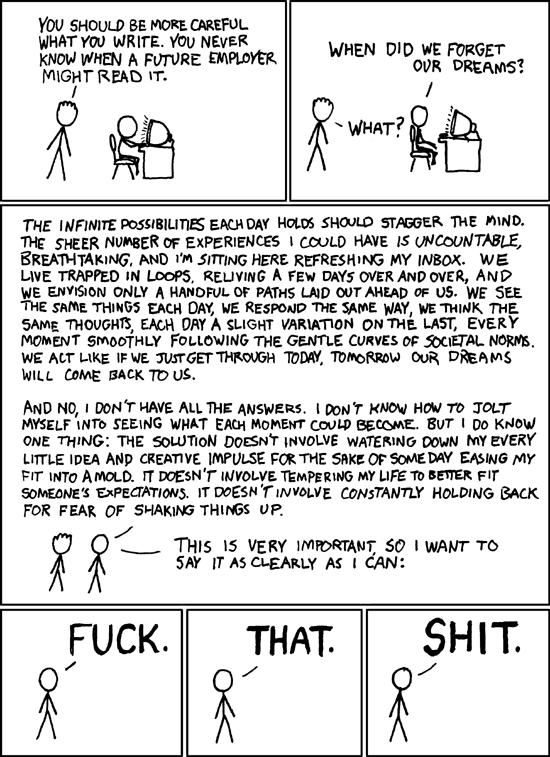 So – I want a reboot. Blogging is important to me. Owning my own platform, however few readers, however little attention it gets, is important to me. I'm not going to pigeon-hole myself into a particular blogging niche. This isn't about brand, or selling myself, or monetising. It's not about readers (though anyone who does read this, hello, good to see you around!)
A is for… Attention
Tell me to what you pay attention and I will tell you who you are. –Jose Ortega y Gasset
Look: I'm easily distracted. It's modern life. I carry a tiny-but-powerful computer around with me in my pocket. It gives me instant access to most of human knowledge, a bewildering kaleidoscope of opinions, an endless array of cute gifs, and it's so easy to use.
So when I emerged from my depression, I found myself blinking at the endless amount of time I had wasted — apparently trying to read the entire internet.
There's a South Park episode about weed. Somewhere during that episode, Randy says: "pot makes you feel fine with being bored, and it's when you're bored that you should be learning some new skill or discovering some new science or being creative. If you smoke pot you may grow up to find out that you aren't good at anything."
I've never much liked weed. But I do like my smartphone, and I use it a lot. I use it multiple times a day. It's like a tic, during any moment of quiet, any pause, any brief lull in the rhythm of the day – out comes the phone.
Endless gratification. I can post a picture to instagram and tag it with a hashtag and almost immediately get a couple of likes.
Endless entertainment. I can open a dozen websites that feed me news, opinion, how-to articles. I can graze wide and far on information, none of which I'll retain (and much of which isn't relevant).
Meanwhile, the seconds of my life tick away.
So this post is my declaration of a reboot. I am going to use this A-Z challenge to force myself to blog daily. To help me explore and figure out what's important to me. To help me balance my consumption of content with the more creatively satisfying creation of content.
I am going to use this A-Z challenge to remind myself to pay attention.